"Assembly line"
Bruno Lins exhibits series of collages and paintings at the Correios Cultural Center.
Flyers, invitations, old magazines, packaging. No matter the origin, in the hands of the artist Bruno Lins, any small piece of colored paper becomes art.
Sometimes in collages in such a small shape that they fit in the palm of the hand.
Others in paintings on canvas of much larger dimensions.
It is this panorama of his research with collage techniques and his relationship with the abstract painting that the artist presents in the exhibition "Assembly Line", which opens next July 17, at the Correios Cultural Center, curated by Carlos Bertão and design. Teixeira's expographic
And the colors appear in profusion in Lins's work.
The old papers that fall into your hands are kept until one day they can be cut and worked.
In the show will be exhibited works made over the last two years.
Most of them – over a hundred – are 8cm X 6cm collages made with these papers that would otherwise go to waste.
In addition to the micro-works – which will be arranged side by side on a large six-meter-long shelf – the exhibition also features canvases painted from small details of paper and collage work done on CD envelopes.
– I think it's cool when art can make this rescue of materials that would go to waste. But in my work this happens very naturally. My work is always very spontaneous and has to do with the materials I find – explains the artist.
An example of this is the work with CD envelopes, which emerged in an unpretentious joke with the 5-year-old son and also became part of his work.
The name "Assembly Line" refers not only to a modus operandis sequential production – as in the case of small format collages – but as a line that comes from a diary of graphical annotations and color registers, separating planes, forming a geometric game of balance between random and control.
– There is no representation in my work of the real. In general, what interests me are the color plans. For me, the precise selection of the elements is very important. It's like cooking: a little more salt to season, a dash of curry to bring color – says the artist who follows the minimalist Bauhaus line.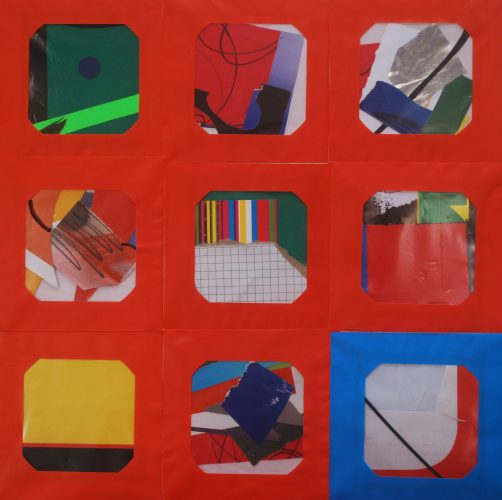 "Assembly Line" will be on display until August 25 at the Correios Cultural Center.
About the artist
Bruno Lins lives between Rio and Araras, in the Serrana Region, where he maintains his studio.
Graduated in Painting from the UFRJ School of Fine Arts in 1999, he has been acting in collective artistic actions and exploring a varied technical and research repertoire in the field of visual arts.
Participated in group exhibitions such as "Wonderful Atrocities", 2001; "Brand New", 2002; "Customs 2", 2003; "36th Piracicaba Salon", 2004; "The face of Rio", 2004 to 2007; and "Amazon River – Navigation, 27 SP Biennial", 2006. Among her solo singles, highlighting "Natural Paths", at the Brazilian Embassy in Rome, 2005; "Landscapes of Wind", at Correios Cultural Center, 2009; and "Tech Colors" at the MS Museum of Contemporary Art, 2016.
In the 1990s, he collaborated with illustrations for Vizoo magazine by photographer and editor Pedro Garrido and was part of a collective studio in Santa Teresa.
Currently working with collage and painting creating a dialogue between techniques for the emergence of an intimate geometry in compositions of various formats.
Assembly line
Opening: July 17, from 18h to 21h. When: from July 18th to August 25th 2019 Cultural Center Post Office: Rua Visconde de Itaboraí, 20th / 3rd floor – room B. Centro. From Tuesday to Sunday, from 12h to 19h. Free entrance
Meet our Pinterest! Filled with images to inspire you.
Do you already know our other social networks?
Already follow the Décor Connection? Go there in our Instagram and Facebook and follow the news.
Celina Mello Franco
Liliane Abreu
TAG: Bruno Lins